Overview
Ancient is set within an archaeological excavation site nestled in what appears to be a Central American rainforest. This map is rich in various artifacts, including pots, artworks, and monuments that bear a striking resemblance to relics from the Aztec Empire.
Within Ancient, the two main objectives, or bombsites, are characterized by unique themes and referred to as 'plazas' according to the in-game signage. Bombsite A is adorned with an orange motif, accentuated by tarps, paint, and signs that create a vivid atmosphere. In contrast, Bombsite B exhibits a pale blue color scheme, setting it apart from the other areas on the map. The distinct coloration and design elements of these bombsites contribute to the map's overall aesthetic and strategic gameplay.
Bombsite A: Featuring an orange motif, Bombsite A in Ancient is adorned with tarps, paint, and signs that create a vibrant ambiance. The site is filled with Aztec-inspired artifacts and structures, offering various hiding spots and tactical options. Distinct features like ramps and ledges add to the site's complexity, and its open layout provides opportunities for both long-range and close-quarters combat.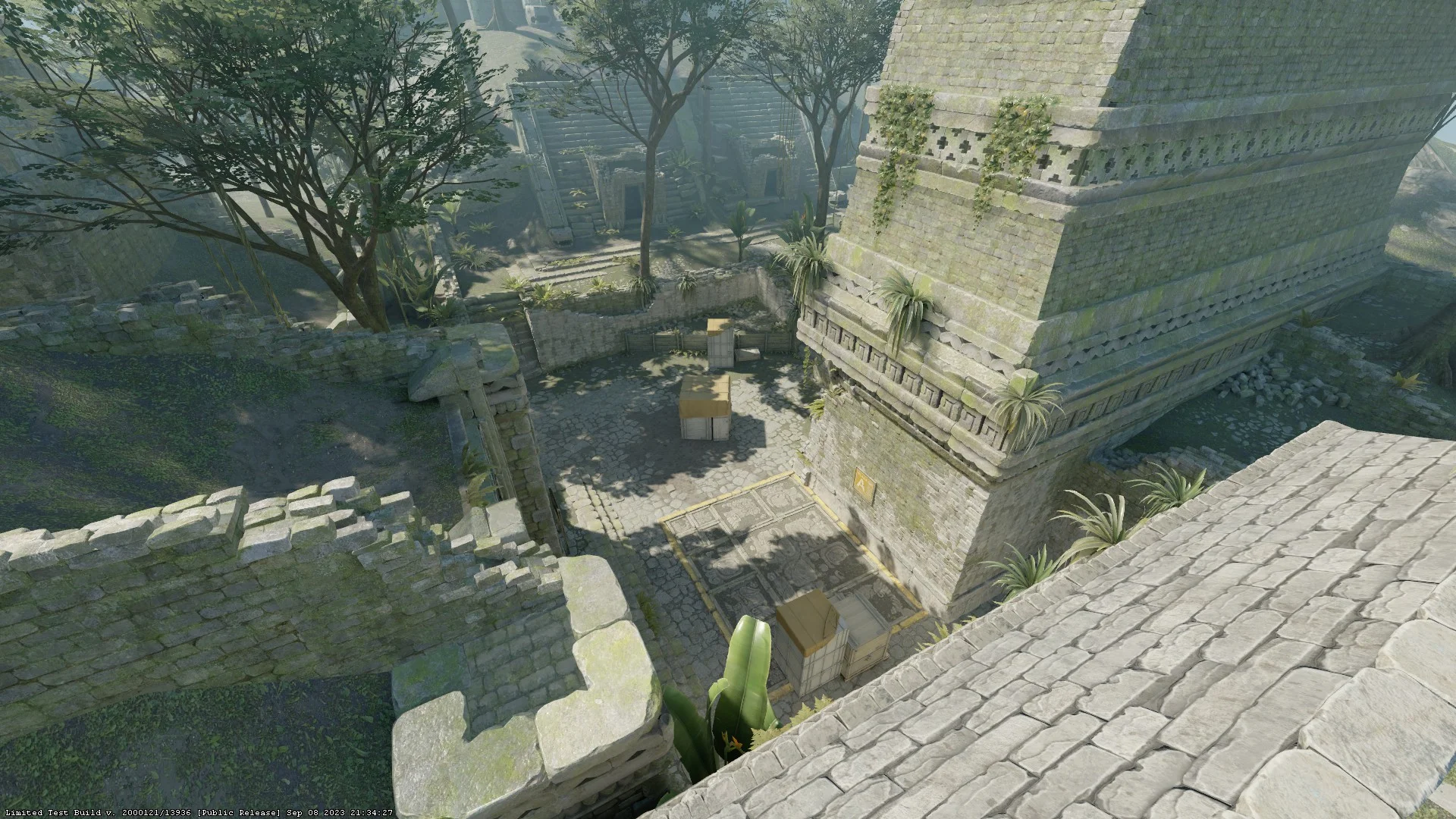 Bombsite B: Characterized by its pale blue color scheme, Bombsite B is set within an archaeological site filled with ancient monuments and relics. Its multi-layered design and variety of entry points create a unique tactical environment. The blend of open spaces and enclosed areas, along with the thematic elements such as pots and artworks, contribute to the site's immersive and strategic gameplay.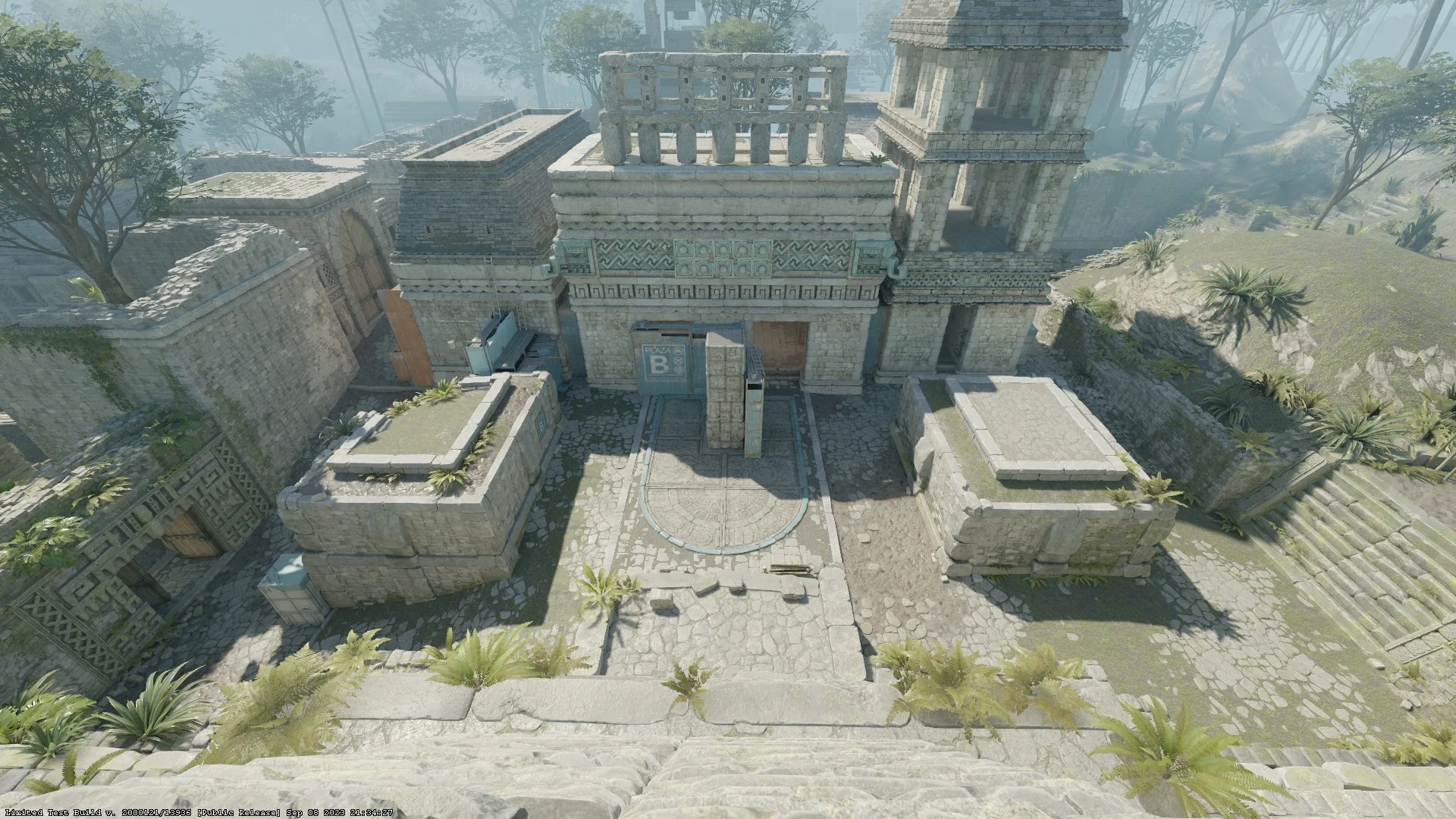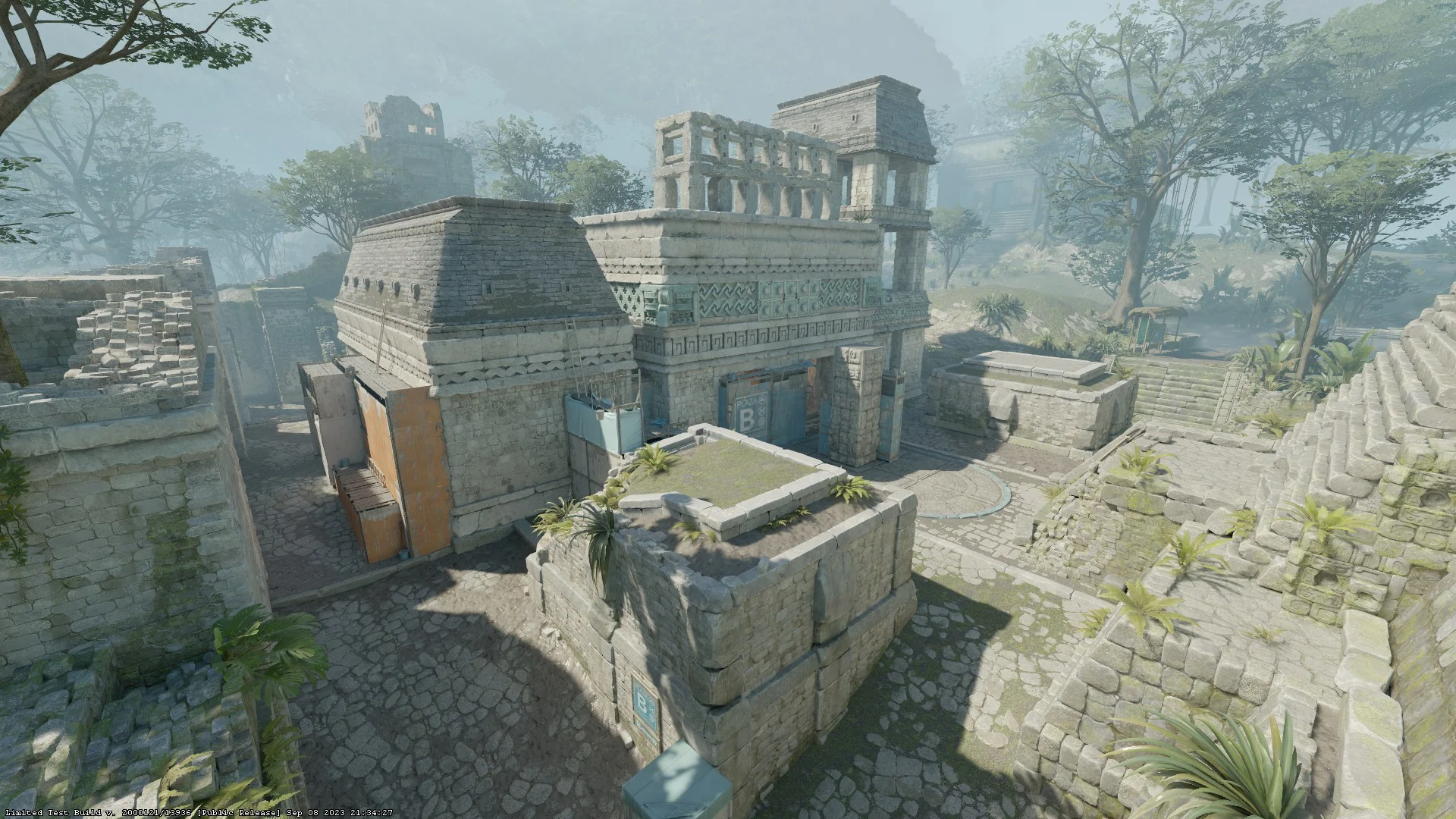 Update History
December 16, 2022
Increased bomb radius to 650 from 500
Flattened out cubbies in red house top of mid
Pushed back CT spawn 256 units, delaying CTs ~1 sec
Compressed blocky things on B site, to create longer sightlines and more space to move around
October 26, 2022
Fixed some boost exploits
Fixed some minor graphical bugs
June 15, 2022
Remove cratestack outside of "cave" location.
Fixed pixelgap from inside "cave" towards T mid.
Fixed ground clipping bugs in mid causing players to go slightly airborne.
Smoothed out ground outside of "cave" down towards B ramp.
Blocked archeological dig inside of "cave".
Smoothed out corners in "donut" room.
Added additional cover near pillar on B.
Blocked one sidepath exit towards A site, widened remaining exit.
Fixed some visual glitches when looking out towards mid from "donut" room.
Reduced wallbang damage through scaffolding at B site.
Boosted light emitted from candles/lanterns.
October 15, 2021
Fixed pixel gap through scaffolding near B
September 21, 2021
Increased size of plantable area in both bombsites
Fixed bullet penetration on plywood surfaces
Further optimizations
Added 1v1 arenas
May 27, 2021
Art-revision on bombsite B and surrounding area
Higher contrast base textures at B for better player reads
Fixed random missing micro-polygons in bomb B totem/sculpture
Recolored plywood throughout the map for better contrast
Straightened out broken-wall passage to bombsite B
Tweaked spawnpoint placement for both teams
May 13, 2021
Implemented Cubby 2.0 in mid connector to A, to remove cheap shoulder angle towards site
Slimmed down the fancy rock, also in mid connector to A
Sparsed foliage and improved clipping on boost planter near A main
Quieted down soundscape birds
Removed clipping from top of bombsite sign in A site, allowing you to self-boost to planter by T main
Added vphysics clip to T spawn water so guns don't fully submerge
So many clip brush tweaks
Blocked grenades from entering inaccessible building by T entrance to mid
Blocked pixelgaps through scaffolding near B site
Blocked pixelgaps through doorway trim in new CT path to A site
Simplified grenade collision on rooftops
General optimizations
May 6, 2021
May 3, 2021
New route from CT spawn to A site
Widened T entrance to left side of mid
Opened up skylight in T tunnel to A site
Extended plantable bomb zone in B site
Opened up ledge in A site
Various minor bugfixes
January 7, 2021
Further optimizations
Fixed some clipping bugs
December 9, 2020
Reduced soundscape volume.
Tweaked ambient light levels in some locations.
Added additional lights to dark corners.
Removed metal pillars by backdoor entrance to B site.
Scaffolding by B site can now be shot through.
Blocked visibility between boxes on A site.
Tweaked blending for better player reads in some locations.
Redid visual language of ledges around mid, more obvious what is/isnt pathable.
Marked additional props for low end CPU/GPU culling.
Mossy walls no longer surface type 'grass'.
Fixed invisible pottery.
Removed some visual clutter around backdoor to B.
General optimizations.
General clipping fixes.
Added de_ancient_zoo VMF to SDK for community map makers.
December 3, 2020
Map added to the game with the Operation Broken Fang update.
General
Game Modes
Competitive / Casual / Deathmatch