VALORANT - August 2023
VALORANT Patch Notes 7.04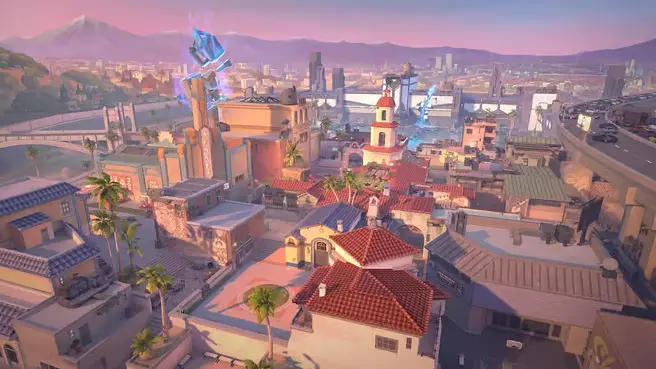 Latest information
Here is a sneak peak into the VALORANT Patch Notes 7.04:
This update will be available at the start of Episode 7 Act 2 on August 29, 2023.
The new patch will feature the following:

New map Sunset
Fracture and Pearl removed from rotation
Agents changes
Premier launch
New Map Sunset
Sunset features 2 sites, and is centered and based around Los Angeles. There are no gimmicks to this map, just straight gameplay.
Sunset will hit the VALORANT servers along with Episode 7 Act 2 on August 29, 2023.
Breeze will be going into the rotation starting next act with Fracture & Pearl being removed. See updated Breeze map on Blitz lineups page.
Agent Updates
While Patch 7.04 includes changes to over half of the roster, the changes are sharply focused on increasing game state clarity by making the following adjustments:

Reducing the frequency of large area of effect of ultimates
Reducing the amount of time utility is active in the world
Reducing the HP of shootable utility
Ultimate cost updates below better align large area, high-impact ults with the pressure they place on the enemy, creating both a better pacing of the round-defining abilities and a clearer choice competition between high and low cost ults

Astra

Gravity Well (C)

Startup time increased from 0.6 to 1.25
Gravity time duration decreased from 2.75 to 2.0

Nova Pulse (Q)

Startup time decreased from 1.25 to 1.0

Cosmic Divide (X)

Audio now is blocked completely by the wall rather than muffled

Breach

Aftershock (C)

Ticks reduced from 3 to 2
Damage increased from 60 per tick to 80

Rolling Thunder (X)

Ultimate points increased from 8 to 9

Brimstone

Orbital Strike (X)

Ultimate points increased from 7 to 8

Fade

Prowler (C)

Time to re-equip gun takes slightly longer after using the ability

Jett

Tailwind (E)

Dash window decreased from 12s to 7.5s
Activation windup increased from 0.75s to 1s

Cloudburst (C)

Duration decreased from 4.5s to 2.5s

Updraft (Q)

Charges decreased from 2 to 1

Blade Storm (X)

Ultimate points increased from 7 to 8

Gekko

Mosh Pit (C)

The impacted area does 10 damage per second before exploding

Wingman (Q)

HP reduced from 100 to 80

Thrash (X)

Thrash's explosion had a little makeover to make it easier to see and understand the area it has affected (on top of being beautiful)

Killjoy

Lockdown (X)

Ultimate points increased from 8 to 9

Omen

Guiding Light (E)

Max duration while casting reduced from 2.5s to 2s

Trailblazer (Q)

HP reduced from 100 to 80

Seekers (X)

Ultimate Points increased from 7 to 8
Seeker Health decreased from 150 to 120

Sova

Recon Bolt (E)

Total number of scans reduced from 3 to 2

Viper

Viper's Pit (X)

Ultimate points increased from 8 to 9
Premier Launch
It has begun, Premier has officially launched. Use the information below to get started. See a summary of what's changed:

Premier Stage 1 dates:

August 29 - October 22 (PT)
Enrollment Period: Aug 29 - Sep 7
Weekly Matches: Sep 7 - Oct 21
Playoff Tournament: Oct 22

Weekly format

Weekly matches will feature the full competitive map pool across seven weeks. Each week will still have one dedicated map and a maximum of two matches on said map.

Playoff tournament

Teams will now need a Premier Score of 675 to qualify for Playoffs.

Career tracking

Performance will now be tracked from Stage to Stage. Participants will receive a Division crest at the end of each Stage.

New divisions

Divisions will be split into five tiers: Open, Intermediate, Advanced, Elite, or Contender.

New rewards

You'll receive a Player Card if you play one Premier match and a Division Gun Buddy and title if you win Playoffs.
See official FAQ on Premier Launch here.